Adding a Book to a Group
Once you have created or imported a book into Booktype, it will sit in the Books list on your user page. If you are a member of a Group, you may want one of your books in the Group's list of books as well.
Note that a book can only belong to one group at a time.
To add a book you have created or imported to a group:
From your Dashboard, click on the link to the Group you want to add your book to in the My Groups list.
On the Group page under the Books tab you will see a drop-down list containing the titles of books that you have either imported or created.
Select the book you want to add to the Group.
Click ADD THIS BOOK TO GROUP. Your book now appears under the Books list on the Group page.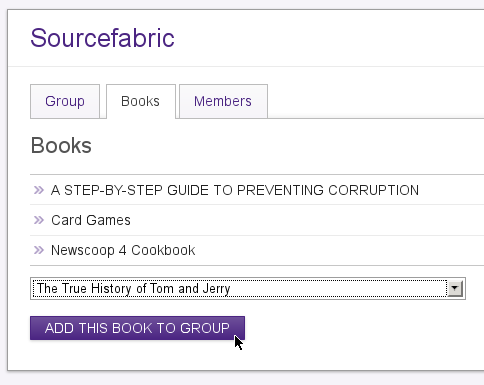 Removing a Book from a Group
At some point you may want to remove a book from a Group. On the Group's page under the Books tab you will see a remove link next to your book. Click on the link and your book will disappear from the list.