Who we are
The Newscoop community comes from a diverse and international background of journalists, editors, developers, implementers, trainers, designers, documentation writers and others who care about Free Software and Free Media. The community finds its focus in Sourcefabric http://www.sourcefabric.org, the non-profit foundation which maintains the Newscoop project, as well as other tools and activities related to its mission of providing media organisations with the open source software, tools and support to produce quality journalism.
Newscoop was first released under the name of "Campsite" in 2000. After substantial rewriting, it was renamed to "Newscoop" in January, 2011. Newscoop and Campsite have always been free and open source (always under the GNU General Public License) and will remain so. 
About Sourcefabric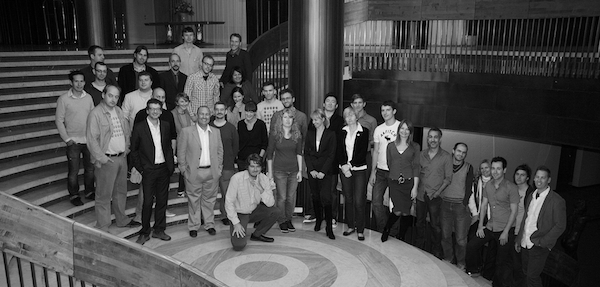 The Sourcefabric team at our yearly "Sourcecamp" in 2011
Sourcefabric o.p.s. is a not-for-profit organisation based in Prague, Czech Republic, with branches in Berlin, Germany and Toronto, Canada, and satellite offices in Warsaw, Minsk, and Cluj.
The Sourcefabric founders Sava Tatić, Micz Flor and Douglas Arellanes were among the key people behind an initiative led by the Media Development Loan Fund http://www.mdlf.org to support open source solutions for independent media organizations in emerging democracies. The Media Development Loan Fund's Center for Advanced Media, Prague, or CAMP, consolidated a lot of work that had been happening since 1999 to develop user-centric, financially-viable, multilingual platforms for journalists. Sourcefabric is the continuation of that endeavour, but with greatly expanded aims and a new organisational structure.
Why 'Sourcefabric'?
Both the journalist's 'source' (the origin of information) and the programmer's 'source' (the code on which software is built) are vital to the work we do.
We are concerned with the 'fabric' of these things - their structures, relations and interactions. At the core of our experience and vision is a commitment to enable quality journalism. We do this through open source software and services that address these structures with solutions that are flexible, strong and interwoven; just like fabric.