About this book
Updated to Newscoop 4.2.0
The Newscoop 4 Cookbook is a work in progress and open to your input. Dedicated to Open Source software development, Sourcefabric makes both the software and its documentation open to the community. The more contributors add to the products, the more errors get caught and fixed, the more features are implemented. We also believe that software improves from good documentation, and documentation improves with the wider use of software.
If you experience the Newscoop 4 Cookbook in its printed form, it might be difficult to see how this book is open to your contribution. If you have come across the Newscoop 4 Cookbook online at http://manuals.sourcefabric.org, you might get a better idea about how you can participate in improving this documentation. Register, log in and add your knowledge, use cases, your code snippets, comments and best practices to make this a better publication. Working with the online book production platform Booktype, the content of this book is continuously evolving. Chances are, the latest PDF, ePub or the online version on the site http://manuals.sourcefabric.org contains more details than the printed copy.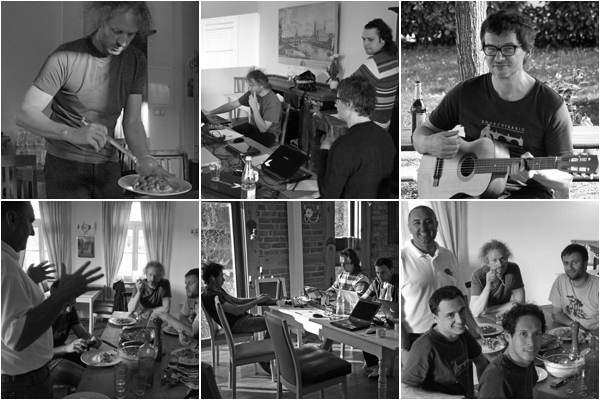 All work, no fun at the Book Sprint in 2011 :)
Sourcefabric first started this publication for Newscoop 3 with a one-week Book Sprint in Schloss Neuhausen, Germany in 2011, two hours north of Berlin. Authors for the Newscoop 3 Cookbook include (in reverse alphabetical order): Holman Romero, Ljuba Ranković, Lucian Marin, Micz Flor, Alexei Danilchuk and Douglas Arellanes. Our facilitator, chef, sprintmaster, captain and all-around make-it-happen person was Adam Hyde of FLOSS Manuals. Thanks also go to Katerina Michailidis for her logistical support and to Daniel James for copy and style editing.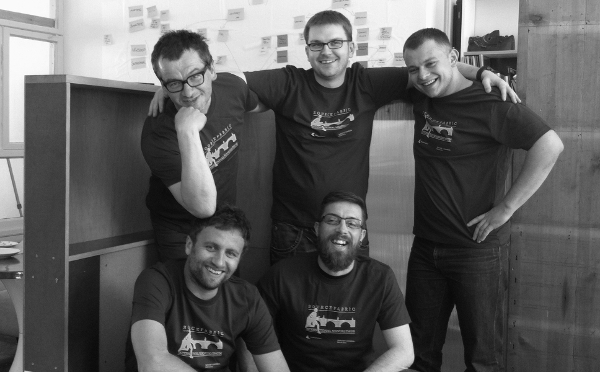 Trying to squeeze in the documentation work during office hours in 2013
In 2013 we upgraded the Newscoop 4 Cookbook in Berlin. A lot of examples had to be re-written and re-tested since Newscoop version 4 was a new and improved beast. Present were (in reverse alphabetical order) Tomasz Rondio, Ljuba Rankovic, Paweł Mikołajczuk, Pete Haughie, and Micz Flor with the remote support of Daniel James.
If you contribute to this book, you may also want to add yourself as an author here...