Getting started
Newscoop enables you to host multiple, multi-lingual publications on the same web server. The process of setting up a new on-line publication with Newscoop can be divided into three steps:
Configuring the publication, and specifying the theme

to be used
Establishing the structure of your publication, with issues and sections
Adding content, managing content, and publishing it
This part of the Newscoop manual is aimed at editors and journalists working their way through these three steps. It assumes that the web server you will use is already up and running with Newscoop, and that a theme has been installed for your publication.
If you are a system administrator setting up a Newscoop server for production use, you should also read the installation and administration chapters, later in this manual, before you begin work on the server. If you chose to install a sample theme from Sourcefabric, you can use this theme to learn about publishing with Newscoop in advance of having your own theme designed. Theme design is covered in the companion manual The Newscoop 4 Cookbook, available from Sourcefabric.
If you do not yet have your own Newscoop server running, you can follow the steps in this manual using the Newscoop demonstration server and sample themes provided by Sourcefabric.
Logging in
The first step begins with logging in to the administration interface of your Newscoop server. This is a special interface which is only available to the staff of your publication. Readers who subscribe to your online publication will log in using the home page of your website instead.
By default, the URL you should enter into your web browser for the administration interface is the name of your website, followed by admin. For example:
http://www.example.com/admin/
If you installed Newscoop yourself, you would have set a password for the admin user during the installation. See the chapter Installation steps for details. If not, your system administrator should have already provided you with a user name and password. Below the User name: and Password: fields, click the drop-down menu to select an interface Language other than the default of English, if your language is available. Then click the Login button.
If you have previously logged in using a different Language, your browser will have saved a cookie to remember your preference. If your browser does not allow you to switch languages, you may need to delete this cookie. Please refer to the documentation for your web browser for details of how to do this. In Mozilla Firefox, for example, you can delete cookies by clicking Preferences, then Privacy, then Clear Recent History on the main menu.
For journalists and news organisations which do not have their own Newscoop server yet, the administration interface of the Newscoop demonstration server can be found at:
http://newscoop-demo.sourcefabric.org/admin/
Please remember that the demonstration server is a public site, so you should not enter any private information there. A variety of guest login accounts are set up on this system, and the passwords for these accounts are shown on the login page.
Feedback data
When you log into Newscoop for the first time, you may see a pop-up window asking for your permission to send feedback data to Sourcefabric. This data about your server installation helps Sourcefabric to improve Newscoop. Click the Yes, Help Newscoop button to send the data, or click the Remind me in 1 week button to skip this step for now.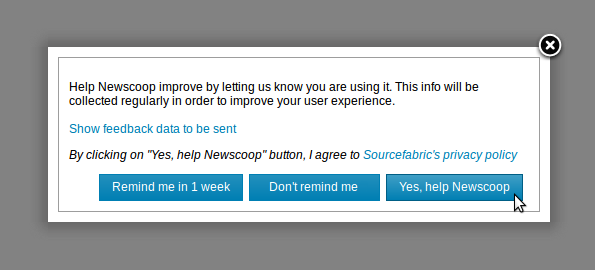 This data is collected according to the Sourcefabric privacy policy which you can read online by clicking the link in the pop-up window. If you wish to review the data before sending it to Sourcefabric, you can do this by clicking the link Show feedback data to be sent. This action expands the pop-up window to show the data for your installation.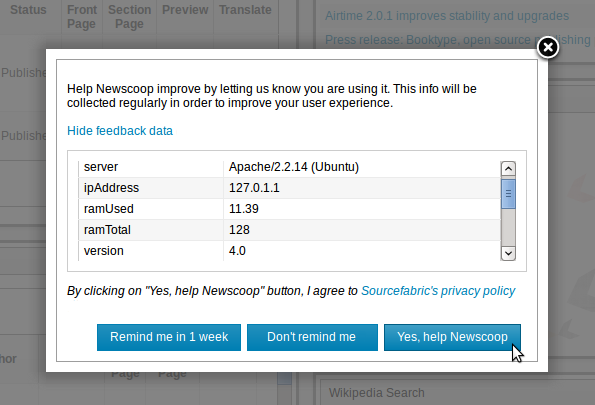 You may need to scroll down inside the window to see all of the feedback data. If you wish to close the pop-up window without clicking either button, you can click the x icon in the top right corner.